Sign up for our free
monthly newsletter!

Sunday July 25, 2010
  Farm Bureau Center at
 Meadow Event Park
Dance under the Stars 
Saturday, July 31, 2010
Rappahannock Cellars (Huntly)
Celebrating launch of new wine trail, Artisanal Wineries of Rappahannock County
At The JEFFERSON HOTEL 
Serving Virginia wines by the glass!
The BOAR'S HEAD Resort 
Old Mill Room and Bistro 1834
Toast Virginia wine lovers
Book Your Summer Getaway today!
800-476-1988
www.boarsheadinn.com
Lansdowne Resort loves
Virginia wine lovers

Check us out! 
Reston Town Center (Reston)
Uncork The Wine
Uncork The Fun...
September 11 & 12
VIRGINIA TOURISM CORPORATION
Open up and breathe.

Visit Virginia wineries.
NEW! 2010 Virginia Wine

 
maps just off the press!
And they are FREE to you!
Wine Festival & Winery Consultant. Winery Marketing, Vendor Finder...and More

 
Vol. V, Issue No. 7
July 15, 2010
Dear Friend of Virginia Wine:

 

Plan a staycation around Virginia's wineries and festivals, like our Featured Festivals of the Week.  The Daylily and Wine Festival on July 17 and 18, on the grounds of the Andre Viette farm and nursery in Fishersville, has the most beautiful setting you can imagine. The Virginia Farm Bureau's Save Our Food Summer Festival on Sunday, July 25, is all about local foods and wines, with a huge farmer's market.  It's located at Meadow Event Park in Doswell, just north of Richmond.
 
Be sure to visit our Restaurant of the Month, "The Dancing Goat" in Winchester, and the Winery of the Month, Ducard Winery in Madison County.  We're also featuring Virginia's newest wine trail, the Artisanal Wineries of Rappahannock County, which launches with "Festa Rappahannock" on July 31 and August 1.   
 
Cheers to July staycations in Virginia. . . and cheers to Virginia wine lovers!

 
WINE TRAIL OF THE MONTH: ARTISANAL WINERIES OF RAPPAHANNOCK COUNTY 

 

 

 

Virginia's newest and most unique wine trail is a collection of artisanal, family run wineries who have joined together to offer a premium wine tasting experience that is rooted in small lot, handcrafted wines.  The "Artisanal Wineries of Rappahannock" are located in Rappahannock County, just a short scenic drive from one another, and only an hour from the DC beltway.  This is a boutique, casual wine tasting trail, in sharp contrast to the hustle and bustle of Northern Virginia.

 

The Rappahannock Family of Wineries is celebrating the launch of their wine trail at Rappahannock Cellars with a "coming out" party, FESTA RAPPAHANNOCK, on Saturday, July 31, and Sunday, August 1, from 11 am to 5 pm.  Proceeds will benefit Hospice of the Rapidan. For more information and to purchase tickets go to

www.artwinerc.com/events   

The event is a celebration of Viognier, Cabernet Franc and "slow" local food, and will feature local wines, meats and produce along with live musical entertainment.  If you're lucky, you'll get to sample a favorite recipe for baked brie that the wineries shared with us. 

 
WINERY OF THE MONTH: DUCARD WINERY

By Scott Elliff

 

DuCard Vineyards' gorgeous new tasting room and winery is nestled at the eastern edge of the Shenandoah National Park in Madison County, in the shadow of Old Rag Mountain and White Oak Canyon.  This is a beautiful setting where visitors can spend a relaxing afternoon enjoying the mountain view and streamside patios.  With its rocky soils, rugged landscapes and consistent mountain breezes, DuCard is perfectly situated to yield wines of unique character and complexity. 

Although DuCard has been growing grapes for a decade, until now their limited production Viognier, Cabernet Franc and Virginia Native Norton wines have been available only through the website and mailing list, and selling out each year.  Fortunately, production has been expanded and the winery has recently opened to the public.
DANCING GOAT RESTAURANT

George Washington Hotel, Winchester
By Al Granick, Director of Food & Beverage

 

The Dancing Goat Restaurant, located in the historic George Washington Hotel, affords the luxury of a fine dining experience in a warm, welcoming, casual atmosphere. Our Executive Chef creates seasonal menus with a focus on traditional American cuisine, using fresh local ingredients to create an exceptional culinary experience. Added to that experience is our unique exhibition kitchen which gives new meaning to "we are cooking tonight"!

 

An extensive international wine menu, complimented by award winning Virginia wines, is available and our trained staff will happily assist you in pairing wines to compliment each course you choose. Complete your meal with one of our homemade desserts, prepared fresh daily. Breakfast, lunch or dinner - it's not just a meal, it's an experience.


 

 

 

 

 

 

 

 

 

 

 

 

 

 
VIRGINIA WINE INDUSTRY MAKES TREMENDOUS STRIDES

 

 

 Just this week, Governor Bob McDonnell announced that the national 2011 Wine Bloggers Conference will be held in Charlottesville.  The conference is expected to bring 300+ attendees to the area for the 3-day gathering next July.

 

According to a report from Todd Haymore, Virginia Secretary of Agriculture & Forestry, sales of Virginia wines in 2009 increased some 7.5 percent over the previous year.  Virginia is now the 5th largest wine producing state in the country, and along with that rise, white grapes reached Virginia's top 20 agricultural commodities list with cash receipts of more than $10 million.      

As promised in his campaign, Governor Bob McDonnell has made the promotion of Virginia wine a signature piece of his Jobs & Opportunities agenda, and much has been accomplished in his first six months in office.  Here are some highlights:
 
The General Assembly established a dedicated source of funds for the promotion of Virginia wine and increased the annual amount from $580,000 per year to $1.35 million.  The funds are dedicated to marketing, education and research, including international marketing of Virginia wines.  According to Annette Boyd, director of the Virginia Wine Marketing Office, these monies "will allow us to build strategies to support our goals of getting more visitors to wineries, getting wines into wine shops and restaurants and increasing promotion through articles and other promotion." 
JULY WINERY EVENTS & FESTIVALS 
Our information comes from many sources and space limitation prevents listing all Virginia wine related events. We strongly suggest that you check websites and/or call for costs and additional details for the events listed.  If you would like an event included in upcoming e-Newsletter, e-mail information to 
info@brittmarketing.com
no later than 10th of the month. 
 

JULY 17 & 18: DAYLILY & WINE FESTIVAL
Come enjoy a weekend of fresh relaxation.  The Shenandoah Valley beckons you to enjoy its beauty and a premier event, the Daylily & Wine FestivalT on Saturday, July 17 (9 am to 6 pm), and Sunday, July 18 (12 noon to 5 pm). This wonderful festival is sponsored by the Greater Augusta Regional Chamber of Commerce and is held at the nationally renowned Andre Viette Farm and Nursery in Fishersville, Virginia, where the spectacular gardens are in full bloom.The event hosts 20 Virginia wineries offering wine tastings along with a wide array of artists, crafters, live music, food for every pallet and a children's tent filled with activities.  Horticulture seminars will be conducted by Andre Viette and culinary and wellness & fitness workshops will be presented.  This is a festival not to be missed!
SUNDAY JULY 25: SAVE OUR FOOD SUMMER FESTIVAL
Live music, fresh produce, flavorful Virginia wines and unbeatable barbecue are all part of the Virginia Farm Bureau's second food festival which will be held from noon to 6 pm on Sunday, July 25 at the Farm Bureau Center exhibition hall at The Meadow Event Park in Doswell.  It's conveniently located just north of Richmond, near Kings Dominion.  Simply a fantastic family day and a great place to pick up some fresh local summer food.
 
Among the many activities featured are a barbecue cook-off, a showcase of local foods, wines and specialty gifts from across the state, and one of the state's largest farmers' markets.  Entertainers include Jackass Flats, Susan Greenbaum and The Venture Rays who will be performing throughout the afternoon. 

 
July 16:  Movie Night
Veramar Vineyards (Berryville)
Magic Lantern Theater presents great entertainment under the stars.  Movie starts at dusk; bring your own chairs.
540-955-5510
www.veramar.com
July 16-18:  Wine Camp
Veramar Vineyards (Berryville)
Escape to the beautiful Virginia Wine Country for drinking and learning about good wine, combined with wonderful food.  Three days, two nights.
540-955-5510
 

July 16-17:  Giant Omelet Festival
Sophia Street in Fredericksburg
Spend a wonderful summer day on the banks of the Rappahannock joining in celebration with the city's Sister City in Frejus France.  Three Virginia wineries, music, French market and so much more.  The French "Chevaliers" will prepare a 5000 egg omelet in an 8 foot frying pan.  Occurs just once every 10 years.
www.fredericksburgfrejus.org
July 17:  Key West Festival
Breaux Vineyards (Purcellville)
Fourth annual.  Island inspired food, great wine and, of course, live music by the Key West Band.  Entertainment for kids and adults.
540-668-6299
www.breauxvineyards.com
July 17:  mini-Cooper Rally
Cooper Vineyards (Louisa)
Fourth annual for wine-lovers and mini-lovers alike.  Drive your mini if you have one. If you don't, come anyway.
540-894-5253
www.coopervineyards.com
July 17:  Wine Cheese Weekend
Burnley Vineyards (Barboursville)
Compare the flavors of cheeses with our wines.  Taste varieties from Virginia, U.S. and Europe.
540-832-2828
www.burnleywines.com
July 17:  Bastille Day Celebration
Willowcroft Farm Vineyards (Leesburg)
Annual event includes special French wine tastings with foods that complement.
703-777-8161
www.willowcroftwine.com
 
July 17:  Old Rag Wine & Music Festival
Sharp Rock Vineyards (Sperryville)
Make a day of it in the shadow of Old Rag Mountain as you sip the wines, enjoy fresh BBQ and listen to the lively music of the Gold Top County Ramblers.
540-987-8020
July 17:  Brookneal Wine Fest at Red Hill
Red Hill Plantation (Brookneal)
Patrick Henry's plantation is the setting for the first ever wine festival.  Five Southern Virginia Wine Trail wineries, live music, crafts and plenty of home grown food.
434-376-9463
www.redhillwinefestival.com
or
www.sovawinetrail.com
July 17:  Summer Beach Bash
Ingleside Vineyards (Oak Grove)
Splish, splash, we're having a bash!  Grab your friends and surf on over for an evening of fun.  Best costume contest, tastings, live music and optional dinner.
804-224-8687
www.inglesidevineyards.com
July 17-18:  Daylily and Wine Festival           
André Viette Farm & Nursery (Fishersville)
See "Featured Festival of the Week" above
540-324-1133
www.augustachamber.org
 

July 22-25:  Floyd Fest
Blue Cow Pavilion / MP No. 170.5 Blue Ridge Parkway
Large-tier festival with small-fest vibe.  Eight stages, beer and wine garden, workshops.
Featuring Levon Helm Band.
888-893-3787
www.floydfest.com
July 24:  BeBop Hoedown
Fincastle Vineyards (Fincastle)
Bring your picnic basket and blanket for festive evening of wine and music by Bebop Hoedown performing mixture of Blue Ridge Americana, swing jazz, blues, pop, grunge, reggae and folk-rock, tossed together with a little Old-time Scotch-Irish flavoring. 
540-591-9000
www.fincastlewine.com
July 24:  Rob's Chesapeake Bay Blue Crab Fest
Philip Carter Winery (Hume)
Join winemaker Rob Cox in celebrating this summer tradition.  At 5 o'clock the newspaper is spread, the wine is chilled and the meal to die for begins.
540-364-1203
www.pcwinery.com
July 24:  Garden and Sea Dinner
Barboursville Vineyards Palladio Restaurant (Barboursville)
Chef Melissa Close prepares a four course feast of seafood and garden delights paired with Barboursville wines.
549-832-7848
www.barboursvillewine.net
 

July 25:  Save Our Food Summer Festival
Farm Bureau Center at Meadow Event Park (Doswell)
just north of Richmond near Kings Dominion
See "Featured Festival of the Week" above
www.saveourfoodfestival.com
July 25:  Uncorked and Unplugged
Rockbridge Vineyard (Raphine)
Relax and enjoy a perfect summer day in this beautiful pastoral setting.  Live music and wine sampling.
888-511-9463
www.rockbridgevineyard.com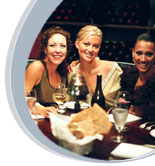 July 25:Wine & Food Pairing
DelFosse Vineyards and Winery (Faber)
Elegantly prepared by Chef Genevieve, menu includes four dishes
paired with four generous samplings of award winning wines.
434-263-6100
www.delfossewine.com
July 28:  Cooking Class #4:  The Salmon
Blenheim Vineyards (Charlottesville)
Enjoy a glass of wine and learn about signs of quality, farm vs. wild, fabrication, curing process, and sautéed salmon.  Then delight in a wonderful meal.
434-293-5366
www.blenheimvineyards.com
July 31:  Caribbean Beach Party
Lake Anna Winery (Spotsylvania)
Join Lake Anna, James River Cellars, Cooper and Greyhaven wineries for an evening of great wine, exceptional food and live Caribbean jazz. 
540-895-5085
July 31 & August 1:  Festa Rappahannock
Rappahannock Cellars (Huntly)
Celebrating launch of new wine trail, Artisanal Wineries of Rappahannock County.  Local wines, meats and produce.
540-635-9398

www.rappahannockcellars.com
WE WERE THERE! (Were you?)

 

  

 

 

May 21, 2010: CENTRAL VIRGINIA WINE CLASSIC

The Central Virginia Wine Classic was held on May 21 in Lynchburg at the Academy of Fine Arts.   Some 200 guests attended the Academy fund raiser that raised $30,000.  Premier wines and wine-related offerings such as trips to New Zealand and France were popular auction items.  Numerous distributors offered a world tour of regional vineyards and varieties.  Wine Classic committee members pictured top left Dr. Michael Valentine, Ted Hunt, Lloyd Agnew, Rosemary Dawson, George Dawson and Larry Redmond (not pictured, Frank Britt).


 

June 5- 6, 2010:  VINTAGE VIRGINIA WINE FESTIVAL (Centreville)

The Vintage Virginia Wine Festival on June 5 and 6 at Bull Run Park Special Events Center in Centreville was the biggest ever despite the oppressive heat and threat of rain.  It brought together over 50 Virginia wineries with thousands of enthusiastic Virginia wine lovers.  The "Monkey Man" was a favorite attraction of young and old.

 

 

 

June 12, 2010:  18th  ANNUAL ROANOKE VALLEY WINE FESTIVAL
Wine lovers from all over the Roanoke Valley flocked to the 18th Annual Roanoke Valley Wine Festival on Saturday, June 12, to taste and purchase the wines of over a dozen Virginia wineries.
© 2006 Britt Marketing & Public Relations