SIGN UP FOR OUR FREE
MONTHLY
e-NEWSLETTER!


CLICK TO VIEW WINNERS
Vol. VI, Issue No. 12
December 2011
Greetings!
Happy Holidays from the Official Virginia Wine Lover e-Newsletter to our readers, now numbering 50,000. What a testament to the ever growing popularity of Virginia wines!
The winery tasting rooms are filled with the spirit of the season and decked out with glimmering tinsel on evergreen boughs. The lights are strung and there are candles in the windows. Sip a glass of wine as you sit in front of a glowing fireplace, and shop for unique gifts and your favorite wines. There are open houses and special events throughout December to welcome visitors.
We encourage you to visit the Farm Bureau's Virginia Holiday Food & Wine Festival on December 10, one of Virginia's largest local food and wine events. And, certain to put you in the holiday spirit, is a visit to the Williamsburg Winery, voted Virginia's most popular winery by our readers.
With this final newsletter of 2011, we wish you the happiest of holidays and peace in the New Year. Cheers to 2012!
WILLIAMSBURG WINERY

(Voted This Year's Most Popular Virginia Winery by Official Virginia Wine Lover Readers)

It is said that when you visit the Wessex Hundred, home to the Williamsburg Winery, you can feel the drumbeat of history as it unfolded on these grounds beginning in the early 1600's. The land had a rich lineage of owners through the centuries before it was acquired by Patrick and Peggy Duffeler in 1983 after an exhausting search covering 52 farms and plantations. Planting of the vineyards began in 1985 and the first crush was in 1987. The release of their iconic Governor's White in 1988 was met with a Gold Medal awarded within two weeks of its release. Today, Governor's White is the largest selling Virginia wine in the state.

The winery has expanded to include the Gabriel Archer Tavern, a casual dining setting open for lunch and weekly wine dinners. Café Provencal is an authentic French country bistro featuring the culinary delights of Chef Tim Westby-Gibson who has a large and loyal following of foodies seeking an escape from the ordinary. Produce is grown in the vegetable gardens to support both the Tavern and Café Provencal.


The most recent addition to the property is Wedmore Place, an upscale country hotel reminiscent of old European properties, opened in 2008. An imposing structure,Wedmore Place is built around a cobblestone courtyard with a large stone fountain brought from Southern France. Guest rooms feature open hearth fireplaces and the decor reflects the personality of European provinces through the color selections, furnishings, wall hangings, and even the antique doors. With genteel Virginia hospitality, Wedmore Place welcomes guests from around the world.


Williamsburg Winery is always bustling with visitors who travel far and wide to Colonial Williamsburg. There are always special events and activities under way. In December, the Winery hosts its Annual Holiday Celebration on December 4, followed by a festive party on New Year's Eve to "Swing in the New Year."

WILLIAMSBURG WINERY SEARED SCALLOPS
SPECIAL OFFERS AND HOLIDAY SUGGESTIONS FROM VIRGINIA WINE AND CHEESE SHOPS

WINE GOURMET,Roanoke

"Where the Savvy Shop for Wine and Beer"


Extensive inventory of Virginia wines, Virginia gourmet foods and chocolates. Want to learn more about wine? Need help pairing wines with foods? Take aclass at the Wine Gourmet!




WINE GOURMET - 3524 Electric Road, Roanoke

540-400-8466 * www.winegourmet.biz

LEESBURG VINTNER, Leesburg

"Quality Wine & Beer from Around the World since 1988"

Take the mystery out of buying a good bottle of wine.

Complimentary wine tastings every Saturday from Noon to 4 pm.

Leesburg Vintner - 29 South King Street, Leesburg

703-777-3322 * www.leesburgvintner.biz

OLDE DOMINION WINE SHOPPE, Occoquan

"Get Adventurous this holiday season with some unique VA wines!"

Some "adventurous" recommendations from proprietors Emil & Kim Wigode.

Take a step away from the standard Chardonnay or Cabernet Franc with Virginia's signature grape, Viognier. Add the bubbles and you have Horton's Sparkling Viognier. Start an evening by greeting your guests with a warm, spicy mulled wine from North Mountain. For a red wine, try a rare Virginia Pinotage from Lovingston Vineyards. (It's limited, so get it while it lasts.) To finish off an evening, select King Family Vineyards port style wine, "Seven." Pair it with a cigar or artisan dark chocolate and you'll be in heaven! All available for purchase at Olde Dominion Wine Shoppe, exclusively Virginia wines.

Olde Dominion Wine Shoppe - 408 Mill Street, Occoquan

703-494-1622 * www.olddominionwine.com
CONGRATULATIONS!

Patricia Webb, Winner of Jefferson Hotel's Gourmet Weekend Getaway.

Patricia J. Webb lives in Madison Heights, Virginia. Patricia has never won a contest before so she was extremely excited about The Jefferson prize. "I grew up in Richmond and the Richmond area, and it will be just really nice to get back for the weekend. The Jefferson is such a lovely hotel, and. I know I will have a grand time and will enjoy some wonderful Virginia wine at LeMaire."
December: QUESTION OF THE MONTH
What is your favorite Virginia
Sparkling Wine?
RESULTS OF NOVEMBER'S QUESTION OF THE MONTH

Pete Johns of New Kent Winery asked readers:

"Would you like beer at wine festivals?

Readers response: 48% YES / 52% NO
VIRGINIA FOOD AND WINE FESTIVAL

DECEMBER 10

Fast becoming one of the Commonwealth's largest events of its kind, the annual Virginia Food & Wine Festival will be held on Saturday, December 10, Noon to 5 pm at the Farm Bureau Center at Meadow Event Park (off the Kings Dominion Exit on 95) which is just 20 minutes from Richmond or Fredericksburg.

The holiday food and wine event was started in 2009 by the Virginia Farm Bureau as a celebration of fresh and local food, wine and specialty gifts. Thousands of people come out to sip, sample, savor and purchase Virginia's finest products that you can't find anywhere else all under one roof. This year's festival features 15 Virginia wineries and more than 60 vendors. Products include meats direct off the farm, cheeses, seafood, spices and sauces, variety of cakes and candies, specialty gifts and holiday décor.

Get your TICKETS TODAY as this holiday tasting and shopping experience will sell out at 5,000 guests. Ticket includes all food samples and wine tasting. The first 2,500 people through the door for the festival will receive a FREE commemorative tasting glass.

AVAILABLE ONLY ONLINE: $12 / $6 (VA Farm Bureau Members) * Website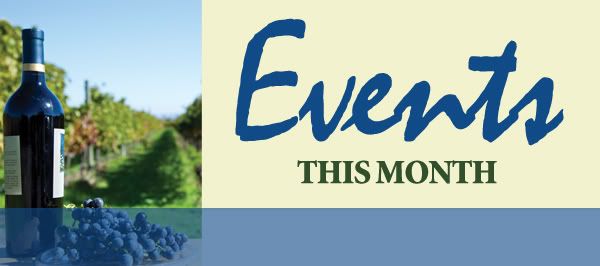 As our information comes from many sources, we recommend you verify dates and times, as well as costs and reservations that may be required. If you would like to submit an event, send details to info@vawinelover.com no later than 10th of the month.
Many wineries celebrate the holidays with
Open Houses. CLICK HERE
for a partial list or check with your favorite wineries to see if they have similar plans.
December 3: Noel des Bariques
Notaviva Vineyards (Purcellville)
Come join the holiday barrel tasting with 8 Chains North, Hiddencroft Vineyards and North Gate Vineyard. Ticket allows visit to all four wineries, all within 15 minutes drive. Taste wines from the barrel, paired with foods to match.
540-668-6756 * Website
December 3: Wine Pairing Dinner
Bluestone Vineyard (Bridgewater)
Chef Vic Boyers of Scrumptious Suppers prepare a five-course dinner around fie of Bluestone's best wines, including newly released 2010 Cabernet Franc and Cabernet Sauvignon. Outstanding menu.
540-828-0099 * Website
December 3: Christmas in Middleburg Wine Crawl
Middleburg, Virginia
After the Christmas Parade at 2 pm, begin a Wine Crawl of progressive tastings from one end of town to the other. Wineries/shops include Swedenburg, Boxwood, Barrel Oak, The Wine Cellar, The French Hound, Julien's, The Fox's Den and Market Salamander.
540-687-3960 * Website
December 3: Illumination
Cross Keys Vineyards & Estate (Mt. Crawford)
Celebrate the beginning of the season with carolers, mulled wine, holiday trust and the illumination of the winery.
540-234-0505 * Website
December 3, 10, 17: Warm, Mulled Wine Weekends
Wisteria Farm & Vineyard (Stanley)
Warm, mulled wine by the file on weekends between Thanksgiving and Christmas. Come out and relax with us and do some shopping. Wine makes a great gift.
540-742-1489 * Website
December 3-4: Currier & Ives Open House
Little Washington Winery (Washington VA)
Start the season in a setting reminiscent of Currier & Ives at Virginia's latest winery. Wine is the new greeting card, and you can make your own Holiday Card Wine Label for our special wines. Look for us in town on Sunday at the Christmas Parade then come up Christmas Tree Lane for tasting and warm holiday Gluwein.
540-987-8265 * Website
December 3-4: Winter Food and Wine Pairing
Doukenie Winery (Hillsboro)
Get warm and cozy with delicious park, cabbage and bean stew that pairs perfectly with our earthy Merlot. Also, gourmet cheeses, salami and warm bread available.
December 3-4: Soup Weekend at Veramar
Veramar Vineyard (Berryville)
Sit and relax in front of the fireplace with a hot, freshly prepared bowl of soup and a glass of wine. Noon until 5. Reservations suggested.
540-955-5510 * Website
December 4: Colonial Holiday Celebration
Williamsburg Winery (Williamsburg)
Visit the winery from noon to 4:00. Buy a Transfer ticket for downtown to the Grand Illumination of Colonial Williamsburg. Eight local restaurants will be serving specialty dishes paired with our fine wines.
757-229-0999 * Website
December 4: French Crepe Day
DelFosse Vineyards & Winery (Faber)
Genevieve's famous Savory and Sweet Crepes available for purchase. Perfect with a glass of wine. Please let us know if you plan to join us.
434-263-6100 * Website
December 10: Virginia Holiday Food & Wine Festival

Farm Bureau Center at Meadow Event Park (Doswell)

One of Virginia's largest local food and wine events. It is a celebration of fresh and local food, wine and specialty gifts. Come sip, sample and savor foods and wines that Virginians can purchase close to home. Website
December 10: Holiday Bubbly Tastings
Willowcroft Farm Vineyards (Leesburg)
Join in the annual holiday tasting of fine champagnes, sparkling wines and hor d'oeurves. Reservations for groups of 5+.
703-777-8161 * Website
December 10: Mountfair Christmas Party
Mountfair Vineyards (Crozet)
A night of fun and cheer along with the music of the Chickenhead Blues Band performing on the Barrel Room stage. Taste award-winning reds and Thibaut-Janisson's sparkling wines, heavy hors d'oeuvres. Cocktail attire.
434-823-7605 * Website
December 10-11: AmRhein Holly Days
AmRhein Wine Cellars (Bent Mountain)
Wine tastings, mulled wine, winery tours and special tasting of our 2011 harvest. Select your holiday gift wines.
540-929-4632 * Website
December 17: Party in Paradise
Paradise Springs Winery (Clifton)
Second Annual Holiday Party in Paradise to include live music by Tender Poleman, shopping specials, raffle, sparkling wine tasting, sparkling pineapple wine from Maui, fresh baked cookies and a visit from the man in red.
703-830-9463 * Website
December 22: Festival of Lights
Philip Carter Winery (Hume)
Enjoy some wine with latkes and kosher pastries. Celebrate with friends and family around the Menorah in Cleve Hall. Bring your dreidels...celebrate the Festival of Lights.
540-364-1203 * Website
December 27: Barrel Tasting with the Winemaker
Cross Keys Vineyards & Estate (Mt. Crawford)
Join our winemaker in the cellar for a tasting, tour and appetizers. One to 2 pm.
540-234-0505 * Website
December 31: New Year's Eve Ball
Cross Keys Vineyards & Estate (Mt. Crawford)
Kick off 2012 the right way, dancing with friends and loved ones while enjoying delicious food and wine. Ticket includes dinner, entertainment and bottle of wine. Music by Standing Room Only featuring Kelly May Brown.
540-234-0505 * Website
December 31: New Year's Eve Masked Ball
Veritas Winery (Afton)
Bring your mask and dancing shoes for great food, wine and fun. Begin with hors d'oeuvers followed by five-course dinner. Dancing til midnight when masks come off and the champagne flows. Breakfast at 12:30. Black Tie optional, reservations required.
434-263-7015 * Website
December 31: Lift the Glass!
Philip Carter Winery (Hume)
"Fast away the old year passes...fa la a la la..." Spend a bit of New Year's Eve here with unique party ideas, hat and favors and wine special to make your own celebration truly special.
540-364-1203 * Website
December 31: Masquerade Ball
Potomac Point Winery (Stafford)
Begin with appetizers paired with wine then move to the ballroom for buffet dinner followed by dessert and coffee service. Sparking wine toast and balloon drop at midnight.
540-446-2107 * Website
December 31: Williamsburg New Year's Eve Celebration
Williamsburg Winery (Williamsburg)
Start with 4-course dinner prepared by Chef Tim of Café Provencal and paired with our wines. Swing dance demonstrations, then dance the night away with music by the ACME Swing Mfg Co. Overnight packages available at Wedmore House.
757-229-0999 * Website
It was quite an affair with Governor Bob McDonnell and real estate mogul Donald Trump celebrating the opening of Trump Vineyard Estates, the sprawling property and winery in Albemarle County purchased by the renowned developer in April. Also participating were son Eric Trump, first lady Maureen McDonnell and Patricia Kluge, from whom Trump acquired much of the property.
VIRGINIA WINE AND GARLIC FESTIVAL

It was the perfect weekend for a "stinkin' good time" at Rebec Vineyards annual festival, one of Virginia's largest. There were tastings by regional wineries, garlic available in every way imaginable and continuous live entertainment on five stages, 150+ unique specialty food vendors, artists and crafters and, of course, the traditional crowd pleasers: Garlic Cook-Off and Garlic Queen and Jr. Queen contests. Mark your calendars for next year's festival on October 13-14, 2012.
RICHMOND INTERNATIONAL WINE EXCURSION

Despite inclement weather, visitors converged at Historic Tredegar on the banks of the James River to taste wines from a dozen countries. The events took place in large temperature controlled tents and included walk-around grand tastings and a "locavore" luncheon with global cuisine. Certainly a highlight of this inaugural wine experience was the presentation by Bartholomew Broadbent on Portuguese wines.
CHESAPEAKE VIRGINIA WINE FESTIVAL

A project of the Chesapeake Rotary Club, this tremendously popular event is rapidly becoming one of Virginia's premier wine festivals. It features wines from the Commonwealth and around the world, with an abundance of distinctive restaurants and caterers, exceptional works of art and continuous live entertainment. Despite arctic conditions, over 6,200 smiling and spirited patrons came out and enjoyed an incredible day that generated $175,000 for local charities. Wow!
THOMAS JEFFERSON WINE FESTIVAL

It was a glorious day at Poplar Forest, the special retreat of Thomas Jefferson in Bedford County with a record number of 19 Virginia wineries pouring tastings along with artisans, local food purveyors and musical entertainment. Once again Gabrielle Rausse and "the third President" engaged in an interesting conversation about wine making.
©2006 Britt Marketing & Public Relations
.
Official Virginia Wine Lover™ is not affiliated with or published
by Virginia Wine Lover Magazine